Hello again blogworld! As promised I have written out the pattern for my shooting star appliqué that goes with the
Summer Wishes Shirt
posted earlier. I gave this one to my daughter. She told me she's going to put it under her pillow at night and make wishes with it. She also told me that I have to make another one to put on a shirt so she can look like her doll! And without further adieu...
Shooting Star Appliqué
By Connie Stieler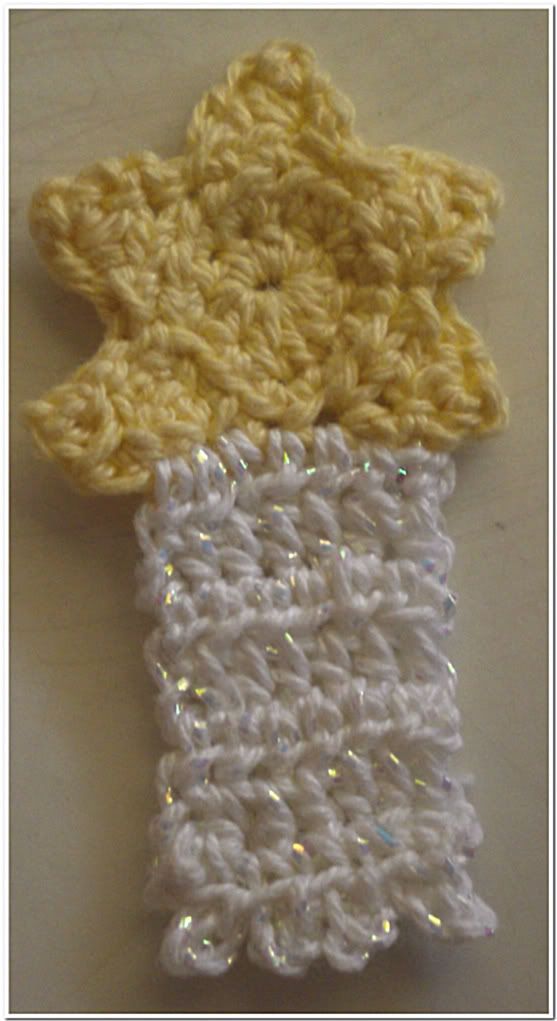 This pattern is copyrighted. You can sell items made from this pattern. DO NOT sell this pattern or claim it as your own. DO NOT use my pictures without my permission. Please feel free to link to this page. Please respect the hard work it takes to figure out a pattern and please respect my generosity in sharing it with you. Thanks.
Materials
Size 10 cotton thread
yellow/glittery white - or whatever you like
Size 7 steel hook
With yellow make magic ring.
R1) 10 hdc in ring. Pull tail to close ring. Ch 1, turn
R2) ( 2 hdc in next st, hdc in next st) around. Sl st to top of beg hdc, ch 1, turn. (15 st)
R3) Hdc in next 3 st. Leave remaining st unworked. Ch 1, turn.
R4) Hdc2tog, hdc in next st. Ch 1, turn.
R5) Hdc2tog, ch1, sl st down side of triangle, back to where triangle meets the circle, sl st here. Begin next triangle in next hdc. Rep from R3 until there are 5 points on star. After sl st down the last triangle, FO.
Attach glittery white 1 st next to your previous FO towards the point of the 1st triangle.
R1) Ch 2 (counts as hdc now and throughout), hdc in next 6 spaces. Ch 2, turn. (7 hdc)
R2) Hdc across row.
R3-7) Rep previous row. At end of row 7, ch 1, turn.
R8) *Sc in next st, ch 3, sl st through top of last sc made*. Picot made. Continue this across the row, ending with sc. 4 picots made. FO.
If you have any problems or questions, please feel free to email me or leave a comment. Happy Hooking!