And suddenly its March?! February is insanely busy at my house. Both of my girls have their birthday in Feb. and the youngest just celebrated her very first birthday, so exciting! I had a baby shower to attend at the beginning of March so I made these little booties. I had made a similar pair for my daughter as a baby but I didn't have a blog then, so I'm 'releasing' the pattern now. I also made a Packer's football, because I know that's the new daddy's fave team. I personally don't watch football, I'm more of a hockey girl! Here's the pattern for the
football.
I modified it as usual to suit my liking. For the stripes on the ends I used surface ch stitches. For the laces on top I crocheted a separate piece and then attached it with a criss-cross pattern. I couldn't get a decent pic of that to show you, sorry!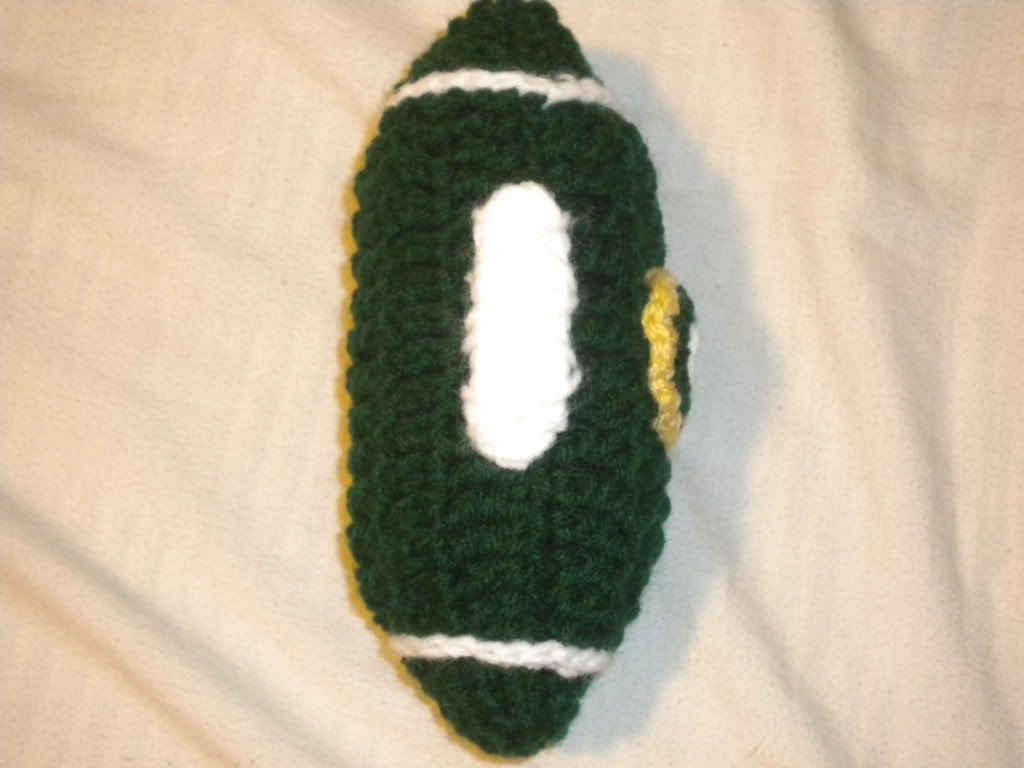 And for the packer's logo I crocheted a small circle and used surface ch stitches to form the G, then attached it. I was pretty pleased with how it came out.
And here are my booties. This pattern is copyrighted. You can sell items made from this pattern. DO NOT sell this pattern or claim it as your own. DO NOT use my pictures without my permission. Please feel free to link to this page. Please respect the hard work it takes to figure out a pattern and please respect my generosity in sharing it with you. Thanks.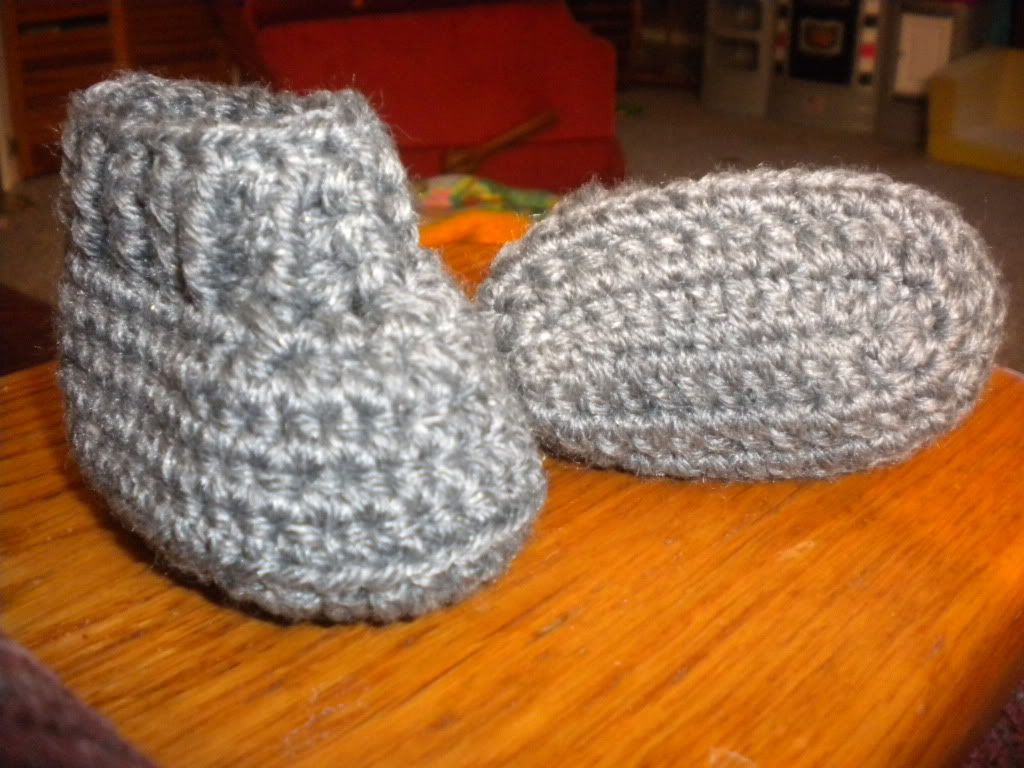 Best Booties
by Connie Stieler
**Please note that this pattern has only been used by myself. If you notice an error, please email or leave a comment so I may fix it, thanks!**
Materials:
worsted weight yarn ( I used red heart Eco-Ways in "Storm")
US D3/3.25 mm hook
Gauge 5 dc = 1"
Fits newborn-3 months
**Join rounds with sl st.**
Sole - make 2
R1)Ch 15, dc in 4th ch from hook. Dc in next 10 st. Sk 1 st, 4 dc in last ch. Rounding to other side of ch, dc in next 10 st. Join to top of ch 3. (25dc)
R2)Ch 3(counts as 1st st now and throughout) Dc in next 11 st, 2dc in next 5 dc, dc in next 8 st, 2 dc in next dc. Join to top of ch 3.
R3)Ch 3, dc in sm sp, dc in next 13 dc. (2dc in next dc, dc in next st) 3 times. Dc in next 11 st, 2 dc in next st. Join to top of ch 3. (37dc)
R4)Ch 2(counts as 1st hdc)working in bl only for this round, hdc around. Join to top of ch 2.
R5)Ch 2, hdc around. Join to top of ch 2.
R6) Rep R5
R7)Ch 2, hdc in next 11 st. Hdc2tog 7 times. Hdc in next 11 st. Join to top of ch 2.
R8)Ch 2, hdc in next 10 st. Hdc2tog 4 times. Hdc2tog once more, starting in the last hdc2tog. Hdc in next 10 st. Join to top of ch 2.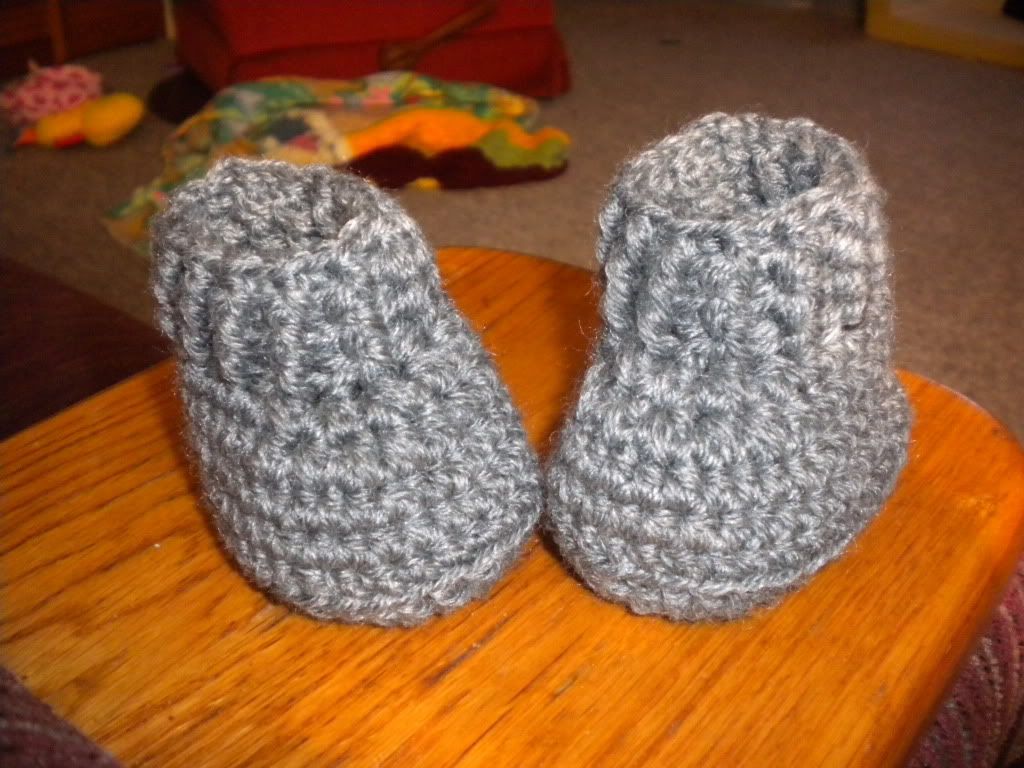 Beginning the ribbed cuff -
R9) Ch 2, *fpdc in next st, bpdc in next st* rep from * around. Join with sl st.
R10-11) Rep R9. Fasten off. Weave in ends.